Adoption: An Invisible String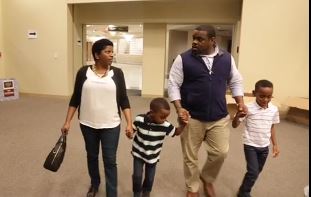 "Defend the weak and the fatherless; uphold the cause of the poor and the oppressed"-Psalm 82:3
I breathed a sigh of relief and breathed in joy as I saw a father lovingly sit with his son and read a book called The Invisible String. This son was eager to discover a new world in a book, with his father with whom he clearly felt loved and connected. This son was adopted years earlier and clearly has grown to nestle comfortably in the love of adoptive father. As they read the book together, this son's eyes drew wide with excitement as he began to further understand love as the substance that binds us, love as the invisible string of connection. Adoptive parents are those that help reestablish the greatest loss, which is the loss of love. Adoptive parents help reconnect the invisible strings of love for those who have had their strings-of-love cut or released.
Tizita spoke with another string-rebuilder, Erin who is an adoptive mother that shared her impact of adopting and being a part of Harmony Counseling Center's Foster Adoption Ministry.
"The decision to adopt is one of the most selfless acts a person can choose. Every day since my husband Zarin and I began fostering our boys over 6 years ago (and later adopting them), I am reminded that it was never about me or for me, but for them. However, I have been blessed, stretched and grown in the process in ways I would have never imagined.
A few years later and along with some great people, we had the opportunity to help form Harmony's Foster and Adoption Ministry (F.A.M.) FAM allows us the opportunity to connect with other fostering and adoptive families; some of which have become personal family friends now, as we support and encourage one another, share information about resources, and participate in learning opportunities that allow us to better support our children. Our decision to adopt and now be a part of FAM has been a blessing to Zarin and me."
FAM offers a monthly parent support group every 1st Wednesday. To learn more about FAM, visit http://harmonycdc.org/services/counseling-center/foster-adoption-ministry/
Watch the Graceys and Pastor McGuire share the impact of being adopted and adopting:
Erin Gracey and Zarin Gracey are part of a team of leaders of Harmony Counseling Center's (HCC) Foster Adoption Ministry (FAM) and co-facilitate a monthly HCC support group for fostering and adoptive parents. Erin and Zarin started their journeys as foster parents and went on to adopt the children in their care. Erin and Zarin maintains a commitment to openly share with prospective and current foster and adoptive parents, the ups and downs of her experience.
Tizita Seifu is licensed by the State of Texas as a Licensed Professional Counselor. She received her M.A. in Biblical Counseling from Dallas Theological Seminary which included studies in Clinical Counseling, Bible Exposition and Systematic Theology. She has worked for over 10 years facilitating and managing nonprofit social services for individuals and families facing personal and social conflict. Most recently, she has counseled individuals and families for 7 years primarily in the areas of anxiety, depression and family conflict. She also finds joy in supporting adoptive families who choose to love each other forever.