And When I Waited, Oh Baby, Baby!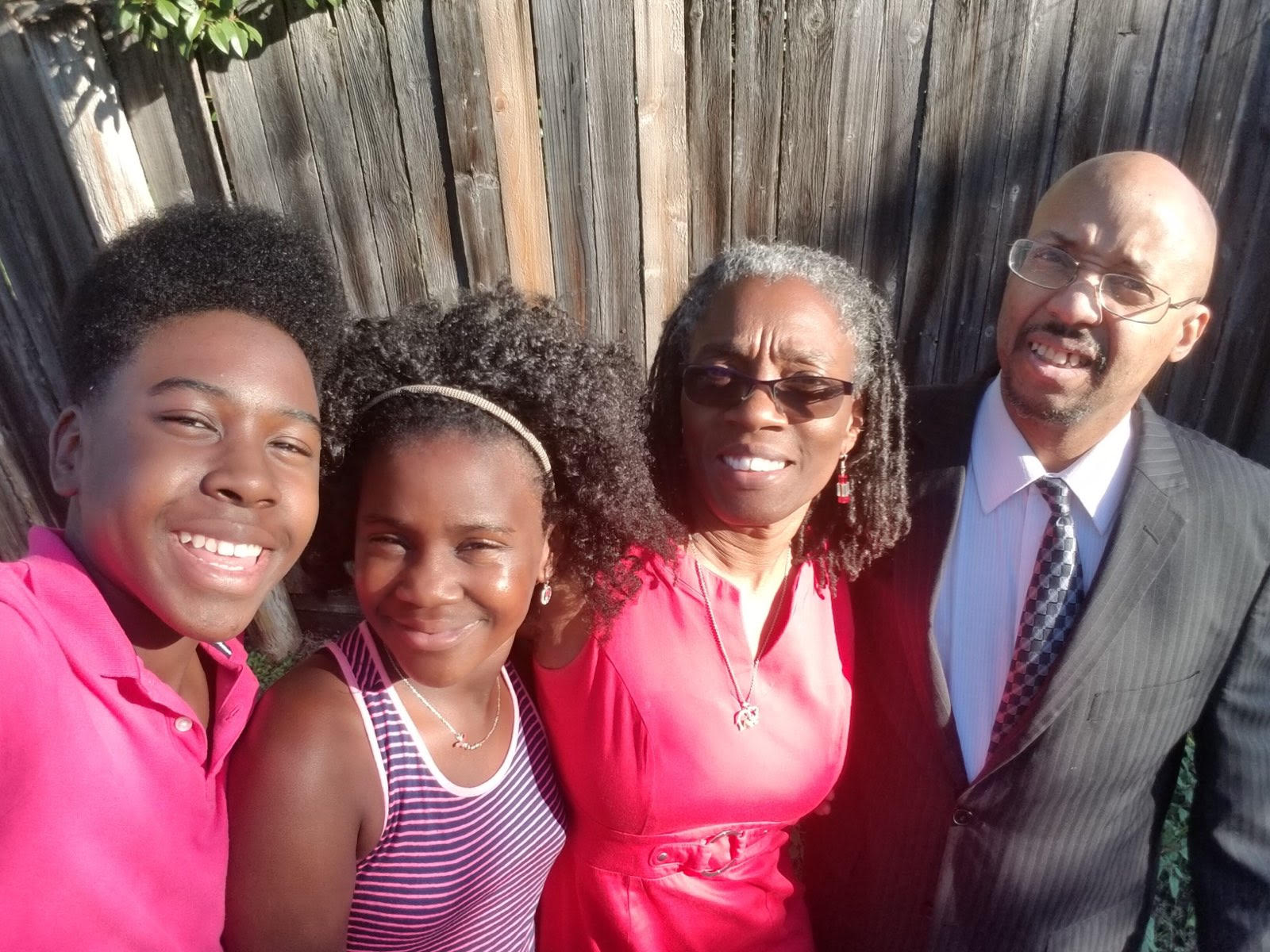 May is Foster Care Awareness month. Tizita sat down with Deborah to learn more about how Deborah and her family have been impacted by providing foster care.
Tell me about your desire to pursue your own family.
Kent and I married in 2000 and wanted to start a family immediately but could not. We were married 10 years with infertility. We were the favorite uncle and aunt. Ours was the hangout spot. We were the fun people. Our heart's desire was to become parents. Kent's a minister. I am a minister. We both love the Lord.
Of course, every month we just knew we were pregnant, but it wasn't to be. I made a deal with the Lord, I said "if we are not pregnant by 40 then I'll know you said no." At 40, I had a hysterectomy. It was a clear no.
We said we were going to be content just being uncle and auntie but my cousin had one foster care placement that really called our bluff. We fell in love with that little boy. I was so in love. I'm still in love with him. He was so adorable. He was just precious. Our hearts connected. Our hearts are still connected. It was just him. Me wanting so much to love a child. I just fell in.
We had gotten with another (foster) agency earlier. I realized that it was me pushing it. The time was not right. I think I knew we were going to adopt. I couldn't see us not having kids.
I have a firm love and respect and admiration for God and His love for me, and Him being for me. I don't want anything God doesn't want me to have. I'm a firm believer that if it's for me, it will be with me and I will have what's for me and no one else can have what's mine.
So, family for us is not just that nuclear family. Uncles, aunties and cousins, we are extremely close and tight. I could not see not having a family and not having my extended family. My grandmother had a saying, "I love everything that is connected to me". We wanted children so badly. We had a family.
It sounds like you had so much love to give, that something was missing when you talked about loving the family at home and an extended family. You had this experience and this desire to express your love?
Yes. Yes. When I was a little girl, my sisters and I would talk about our kids getting together and playing. It's just in my mind, I'm going to be a mother. To my own detriment, I strayed away from allowing God to make it happen. I started trying to make things happen. Every opportunity was, "this might be my child", "I can't miss it", "I have to go do something." But God wasn't guiding me to do that.
What was the sensing you had of God's leading?
Just to wait. Just to wait. The direction seemed to be to get an (foster care) agency. We had a good Christian agency. Instead of allowing the agency to do their job and do what they had purposed to do, it was, find somebody and bring them to my agency so they can make this happen. No. No. That was me being anxious. Mother's Days were going by. I would often say, "young girls can get pregnant, why couldn't I?" It was me pushing it.
And when I waited, oh baby, baby! God brought those children to us! Our first placement, we experienced everything but the stretch marks. We loved that baby. We sang over him. We prayed over him. We poured our all into him. So naturally when it came time for him to leave, it was like ripping Velcro. He left on my daughter's birthday. I grieved. I didn't think I had any more tears to cry. He needed to go. He needed to be with his family. I wouldn't have wanted anyone else to have had that 6 months with him other than us. We were the ones to do that.
We (first) met them (my two children) in January at Braum's. That's our spot. I remember sitting there at that table and waiting, watching everybody that came through that door, "is that them?", "is that them?" It was just love at first sight, oh my gosh, for all us. It's just we're a family.
I had to let him go, in order to receive these two. That was the beginning of the beginning.
How has your life been impacted by this love? By providing foster care?
Foster care has been a wonderful thing. We knew we were fostering to adopt but we didn't know how many placements. It has allowed us an opportunity to minister. That first little baby needed our love. We had to give knowing that we would lose. The difference it would make for the Kingdom. Foster care is awesome. It's an opportunity to love in the worst way, to love with very little immediate return.
What kept you going? People may hear that, "love in the worst way" and "loving to lose" and be discouraged. What kept you choosing foster care?
It had to be a calling. For us it was a calling. "Let the children alone, and do not hinder them from coming to Me; for the kingdom of heaven belongs to such as these." (Matthew 19:14) Don't mistreat children. This is what Jesus was saying. He has given me that kind of love. I don't want to see them mistreated. I've grown. I've learned so many things. The training. The books they had us read. I loved it. I was an educator. I was a special education teacher. The less than; that's my heart right there.
Kent likes being a dad. He likes being called daddy. I have a picture of Kent and my son in the kitchen. Kent's on the floor on one knee and my son is standing next to him. They have their shades on and kind of a muscle stance, like "us guys here". He likes being identified as dad.
What would you say to married couple or single person that may be considering providing foster care?
The immediate difference you make for a kid. Mama Jay was my children's first foster mother. Mama Jay said when they brought my kids to her doorstep, my daughter's eyes were so dark and empty. Mama Jay said when the social worker came back two weeks later, the social worker said, "this is a different child". All Mama Jay did was love them. That's all she did was loved on them. That's the immediate, extreme payoff. When they (kids) say, "I love you", "Can we call you momma", "Can we call you daddy?". "Girl, yes!" Even though within that same day there are meltdowns for the kids. Just us hitting and missing, not quite getting it 100% right. In the end, when you are saying it's time to go to bed but (the kids say) "you didn't kiss me goodnight." The kind of love that you get from a child is a different kind of love than you get from anybody. I don't care what kind of day you have had, there is immediate forgiveness and unconditional love. My daughter wants to wake up every morning and be the first one to tell everybody I love you, "I love you daddy", "I love you (brother)", "I love you momma." My son does it, "love you daddy", even though last night he's mad at him. We have family games that we play. I usually lose it and they enjoy it. One of my son's favorite things to say is, "can we do something as a family?" We have a way to go. This family rises above. #Riseabove
God had this coming. I lost my ability to give birth but He was going to birth those children through us. I wouldn't trade a moment. Even through the tough times. I would do it all again. I would be wiser. I would get intervention for the kids a lot sooner. I would do things better for them, not so much better for us. Baby, I would set our children up for success.
Is there anything else you would like to share?
Find a foster care agency that is small and personable and will take time with you individually, as a family, as a person, who will sit and answer your questions and who will walk through it with you. I chose our agency because it spoke God to me. Find an agency that will walk through it with you one on one. It's doable. It's so doable. It's you with a child or children, living life and doing life with them. I've learned not to make it so much about my expectation. Just let things evolve. Early, I had an idea in my mind of what a family should look like, how a family should act; it doesn't work like that. I've learned to stop, enjoy the moment, relax, just let it unfold. Don't try to make anything happen. These kids are going to be who they are. That took so much pressure off. So now if my daughter wants to wear mismatched socks, like she does every day, that's fine. That's ok. My son wants his hair 2, 3 inches high. That's fine. I've learned to find some things you can say yes to and not no so often so that when you have to say no, you've got those yeses. These are things that I learned as I was going through the foster care system, learning to be a parent, and going to those trainings. They teach you everything you need really. Then you've got your own life experiences, common sense and love.
Immediately we got the kids in counseling here at Harmony (Counseling Center). That's how we met Cheryl Hamilton. We started with the Family Tree program and that was so vital. We learned that it was important to keep them in counseling because they were so young and as they got older, more would happen. Long before we came to Concord (Church), we came to Harmony. Harmony has made a huge difference. Harmony has been a stabilizing force. I can't even speak to the wisdom that you've shared. You have helped us personally to grow. These are things that have saved our family, in a sense. Over the last few years, it's gotten very difficult. We needed some advise and encouragement and some support that was stable and sound. That's what we've gotten from Harmony.
To learn more about foster care and adoption support services, connect with Harmony Counseling Center: http://harmonycdc.org/services/counseling-center/
To learn more about providing foster care or volunteering with foster families, connect to local Child Placing Agencies:
Deborah Green is one of the leaders of Harmony Counseling Center's (HCC) Foster Adoption Ministry (FAM) and co-facilitates a monthly HCC support group for fostering and adoptive parents. Deborah and Kent Green started their journeys as foster parents and went on to adopt the children in their care. Deborah maintains a commitment to openly share with prospective and current foster and adoptive parents, the ups and downs of her experience. The Green Family is excited about what God has done and is doing in the lives of their family.
Tizita Seifu is licensed by the State of Texas as a Licensed Professional Counselor and works with Harmony Counseling Center. She received her M.A. in Biblical Counseling from Dallas Theological Seminary. Most recently, she has counseled individuals and families for over 6 years primarily in the areas of anxiety, depression and family conflict. She finds joy in supporting families who choose to love each other forever.