#Tools 2 Thrive: Fear of the Unknown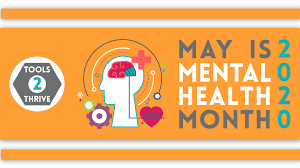 While 1 in 5 people will experience a mental illness during their lifetime, everyone faces challenges in life that can impact their mental health. Many have believed that mental health only affected a few, but with the advent of COVID-19, we all have been impacted…literally everyone-all five in five!! The world has been shaken by the coronavirus that has caused increased fear, loneliness, anxiety, isolation, worry…just to name a few. The 2020 theme for Mental Health America (MHA) is: Tools 2 Thrive. As a people we need to not just survive COVID-19, but to Thrive even in the mist of it. Follow us throughout the month of May as we share practical mental health tools to support you as you thrive at: #Tools 2 Thrive!
#Tools 2 Thrive: Fear of the Unknown
There are two types of movies and TV series that are popular. The first type is the "cliff-hanger" variety. Examples are the end-of-season-episode for Scandal when it was on the air, or Star Wars Episode ____ (you fill in the blank) for all you Jedi fans. Cliff-hangers are popular – though frustrating – because they leave you in suspense.
Which leads to the second type of movie or TV series: Outright suspense drama. Whether Alfred Hitchcock and The Birds or Jordan Peele and Get Out, many like these types of movies because they leave you on the edge of your seat wondering what will happen next. Some of these movies are downright scary.
While many of us like one or both types of entertainment, we typically are not fans of living the reality of a cliff-hanger or suspense drama. And what we have with the current COVID-19 crisis feels like both. It is a cliff-hanger because every day we're left without answers or resolutions, and every day we are left in suspense. Yes, it is downright scary. We are left with a real-life fear of the unknown.
Further, with the actual trauma associated with more and more individuals losing their lives, the impact on their bereaved families, inability to gather together for services, actual and feared cases of COVID-19, and health-care workers and others serving on the front line, the human toll is real. Record unemployment, stock market deterioration, empty grocery store shelves, and the significant impact on those who are most vulnerable in our community – seniors and those living below the poverty line – can make this time terrifying. This is the case even for people of faith.
So, what do we do? Several things.
Take a Reality Check
First, recognize that fear can be a healthy response to a real situation! To imagine that we are not living in unprecedented times with so much potential danger amid so much uncertainty would be living in a fantasy world! The Lord calls us to live.
Further, it is not a sin to experience fear. How can we know this? Do you remember what Jesus experienced in the Garden of Gethsemane shortly before He was beaten and crucified for our sins?
Taking along Peter and the two sons of Zebedee, he plunged into an agonizing sorrow. Then He said, "This sorrow is crushing My life out. Stay here and keep vigil with Me" (Matthew 26:37 – 38 MSG).
Jesus who was perfectly certain that He was going to be raised from the dead in three days also was perfectly self-aware that He was sorrowful. Jesus was depressed. On a human level, Jesus was afraid of an unknown that He had not yet experienced, even though He knew that in the end, it would turn out for God's Glory and the greater good. This ought to be a model for all of us that fear in and of itself is not a sin.
Daily Seek a Larger Perspective
While COVID-19 and the fear of the unknown that comes as a result are very real, we cannot limit our focus to the disease and our fear. This means that we need to limit our daily intake of "the News" and increase our daily intake in the presence of the Lord.
How can we do this? Put on worship music and worship the Lord for His goodness, His grace, and His omniscience. He DOES know how this will all turn out.
Spend time in His Word. Even if you start with five minutes a day, commit yourself to those five minutes every day. Reading God's Word does not just tell us He is with us, which He is. It also reminds us how God's people grumbled against Him time after time when they faced their own crises. Could it be that this is a time to lean and depend on Him with the attitude of Jesus in that same garden: "Thy will be done" (Matthew 26:42 KJV)?
Pray! Pray for your strength, pray for your protection – and then pray the same for others. Know that your prayers do make a difference. "The prayer of a righteous person is powerful and effective" (James 5:16 ISV).
Lastly, we are encouraged to do this daily. When your day runs out and fear of the unknown tries to overcome us, start again the next day.
Seek the Help of Others
Thankfully, we are not called to walk through this or any journey alone. In this time of crisis, it is critically important that we receive wise human counsel as well. Professional Christian Counselors are available to listen and to come alongside you. In this day of 21st century technology, virtual counseling can overcome the requirements for physical distancing so that you're better equipped to walk the path that is before you as an individual, and the path we are called to walk as a community.
Fear of the unknown is not a sin… but it also should not have the last word. God bless you.
Jada Jackson, LPC-Intern
Supervised by Dr. Brenda Richardson Rowe, LPC-S