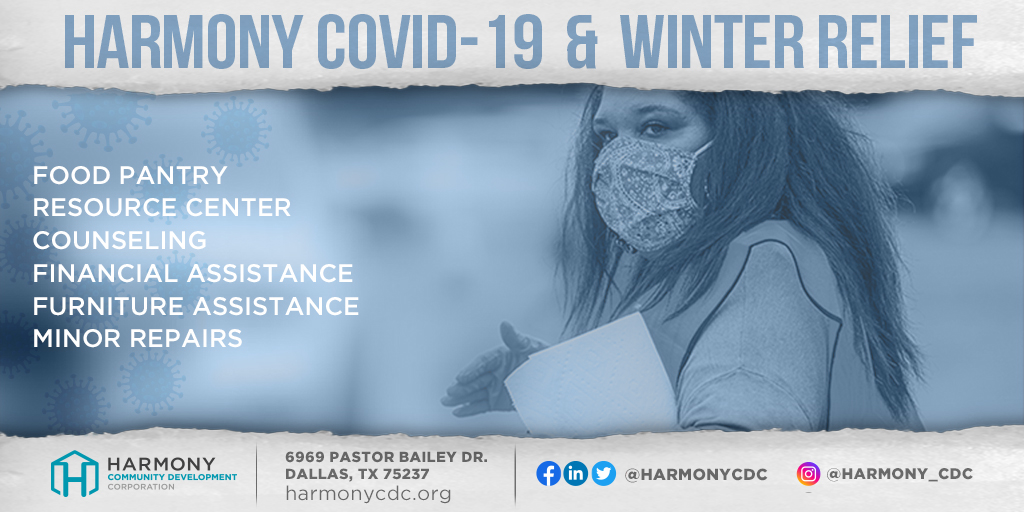 Harmony Community Development Corporation is working to bring relief to those impacted by COVID-19 and those suffering as a result of the winter storms. Check out the available services and resources in the City of Dallas and Dallas County area.

Food Pantry Distribution
The Harmony Drive Thru Food Pantry provides healthy, nutritionally balanced and quality food to individuals and families in need.
Mondays: 2:00 pm - 6:00 pm
Tuesdays: 4:00 pm - 6:30 pm
Thursdays: 10:00 am - 2:00 pm
No appointment is needed!
Located at 6969 Pastor Bailey Dr. Dallas, TX 75237 (enter the East parking lot on Pastor Bailey Dr. and follow the signs)
Talk With A Mental Health Professional
Talk with a professional who can help you cope with emotional distress from the storm. Visit www.harmonycdc.org/counseling or call 214-751-3932

Federal Emergency Management Agency (FEMA)
Homeowners and renters are encouraged to register for disaster help. FEMA help may include grants to help pay for temporary housing and essential home repairs. Register for FEMA help:
Online at

www.DisasterAssistance.gov
Call 7 a.m. to 11 p.m. ET, 7 days a week at 1-800-621-3362 (also for 711 & VRS). People with speech or hearing impairment may call toll free TTY 1-800-462-7585. For those who use 711 or Video Relay Service (VRS), call 1-800-621-3362.
If you have immediate needs for food or shelter, you may contact 2-1-1 for local resources.
If you were affected by the winter storms in Texas, you can apply for disaster assistance online by selecting "Apply Online".
Applicants are required to inform FEMA of all insurance coverage such as flood, homeowners, renters, etc. that may be available to them. Insured applicants must provide FEMA documentation such as an insurance settlement or denial letter to process their application.
Federal assistance can include grants for temporary housing and home repairs, low-cost loans to cover uninsured property losses, and other programs to help individuals and business owners recover from the effects of the disaster. Click here for a helpful publication from Lone Star Legal Aid regarding how FEMA can help. Note your deadline to apply for assistance is April 20, 2021.
Individuals and business owners who sustained losses in the designated area can begin applying for assistance by registering online at www.DisasterAssistance.gov or by calling 1-800-621-3362 or 1-800-462-7585 TTY.
RECOUPING DAMAGES (Desoto Residents)
DeSoto residents who were impacted by the Winter Storm and have receipts to prove it should visit the State's TDEM website for info on how to recoup some of your storm losses: https://nextdoor.com/city/post/177754671
LEGAL AID
Legal Aid of NorthWest Texas Disaster Assistance Hotline - 1-888-529-5277
National Center on Law & Elder Rights
FIND HELP
2-1-1 Texas or dial 2-1-1 (toll free 1-877-541-7905)
LOCATE A CONTRACTOR IN YOUR AREA
APARTMENT ORGANIZATIONS
Texas Apartment Association: Disaster Reminders and Resources or call 512-479-6252
Texas Hotel and Lodging Association or call 512-474-2996
CITY OF DALLAS WATER PICK UP
Starting Monday, February 22, 2021 from 10 a.m. to 8 p.m., Dallas residents will be able to go to any of the City of Dallas-run Park and Recreation warming stations to fill water containers up to 15 gallons per visit. Residents are requested to bring their own containers. No ID required.
Residents should bring their containers to the center and staff will assist in filling the containers. For those who don't have containers, a limited number of 5-gallon containers will be available.
HELPFUL ARTICLES
HANDLING HOMEOWNERS INSURANCE CLAIMS
DISASTER SCAMS - HOW TO AVOID THEM AND WHAT TO DO
** If you have any additional resources that would be helpful to the DFW community please share them at

Ways You Can Help
Before you donate material items, please be aware that:
In the early stages of disaster response, most organizations are unable to accommodate all of the donated goods.
Unsolicited material donations create a challenge of sorting, storage and transportation when focus is needed on response and recovery.
Monetary donations continue to be the preferred manner of contributing to disaster relief. Monetary donations enable relief organizations to purchase needed items and supplies locally and in just the right quantities, which ensures quick delivery to those in need.
To support the Harmony CDC Winter Relief Fund donate online - CLICK HERE

Donate your time, services, or skills
Harmony CDC is in need of volunteers to assist with food box prep, distribution, call center team, and delivery drivers.
CLICK HERE to sign up
If you or your organization, or if you know of an organization, that can help with one or more of these needs, please contact or call 469-436-2626.

Get connected with Harmony CDC on social media for up to date news and events